Happy Earth Day! – Oak Table Flip to World Map Statement Piece
Hello World of readers! Happy Earth Day to you!
Well this one took a while but well worth it. He is done… meet Magellan! Painted by hand with my favorite paints on the market! These make refinishing so easy to do!
3 parts marine blue
2 part licorice
1/2 part so serene
1/2 part oh so shabby
This blue was hand mixed by myself to achieve a color from my childhood. Our living room was this color for many, many years. In honor of my mother and her "vintage" love for this blue… It is now my first custom color I will be offering and it is called "Vintage Sue Blue". Love you Mom!
The entire piece has been hand painted and the land masses were drawn and painted freehand.
Here is an insight to the creative processes. I really wanted to label the land masses and larger bodies of water. So I took some transparencies and cut them into pieces and wrote on them while they were laying on top of the map design… testing to see how it would look.
The bottom legs have a gold dip dyed look to them with old gold shimmer dry brushed onto the Vintage Sue Blue base. I began this step by painting Cali Taupe under all the old gold shimmer edging.
Once the old gold was painted on I painted the legs with the Vintage Sue Blue recipe listed above. I painted it down over the tops of the Cali Taupe/Old Gold to a measured height and created the line you see here.
Once the blue was cured over night I dry brushed the Old gold on the underside of the table with a chip brush. Don't you just love the depth it adds to the legs?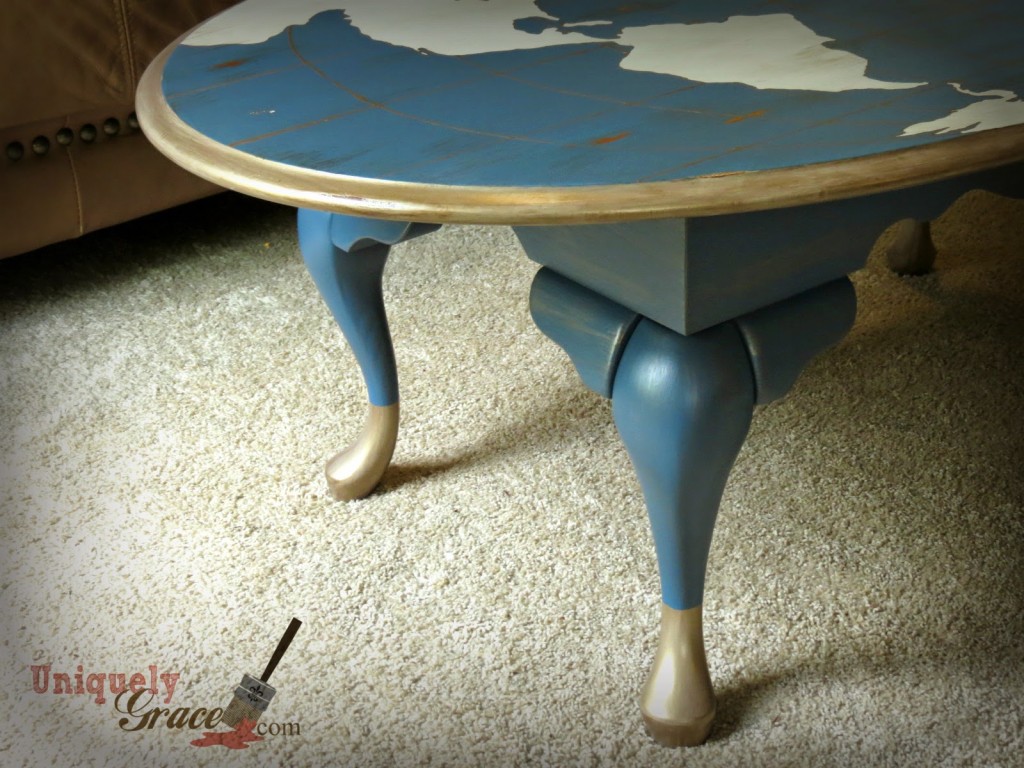 The entire piece was sealed with two coats of Sheer Vax. I love the Vax product by +Shabby Paints, it is so easy to use, non toxic, VOC free and MADE IN THE USA!