Product Description
This awesome Vax Applicator Sponge can really make applying out Vax or Varnish top coats, Our ReVaxes or our Gelato Gel Stains a breeze.  Just damp it with water, dip in Vax/reVax and glide it along your project.
This product is reusable as long as you use it with water based products and clean it immediately.
Check out this video on how to apply our products using this simple tool, Vax Applicator Sponge.
Vax Applicator Sponge Video

The Vax Applicator Sponge is a must have in your tools for the fastest and easiest application process of our non toxic and VOC free products! I sue this Vax Applicator Sponge to apply all our sealer type products on anything you want sealed or to have a wood stain look; bed frames, night stands, table tops, dinning sets, dressers etc.
This buffet table top was done with this Vax Applicator Sponge…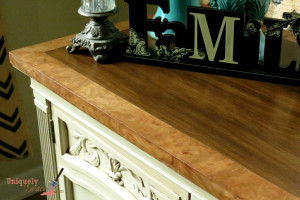 As was the stained areas on this library table top…