So who doesn't love a secret compartment? I know I do! I love my new floating shelves with a hidden secret tucked away inside one. This has got to be one of my favorite things to show you about my laundry room. I love the entire space but this one is so freaking cool!!!! Read with me friends on my journey on how to make this Laundry Room makeover have a huge impact in a little amount of space.
The Idea:
When planning out the new laundry room design I was frustrated. I was sad it was such a small space with so many cool designs online with larger laundry/mud rooms and tons of storage. But alas we are currently in a a 12 year old track builder grade home. The laundry room was the one thing I hated. The one thing on my "must have" list I didn't get with this wonderful home here in San Antonio. I had to make this space awesome. So awesome it would become one of my favorite rooms in the house, and now it is!!!
I was researching about what to put in a laundry room. What is a necessity, what is a want, what is just adorable because that matters to. I found a hidden gem, LITTERALLY, on Ana-white.com. I found her post about her laundry room makeover. She had something I new I needed in my space. I wanted this exact concept and how she executed it was brilliant. BRILLIANT, I tell you! Her floating shelves with a hidden secret DRYING RACK built right on inside it. I had to add this to my design. So thank you so much Ana-white.com, her site is so amazing and inspirational with a ton of free tutorials.
The Placement:
I am going to show you some images rather then tell you how to do this project. The step by step is on this link at Ana-white.com.

First step for me was to decide what height and where to put the shelves. The decision was due to the space I wanted to give Ferdinand, my polish pottery bull head. Isn't he pretty?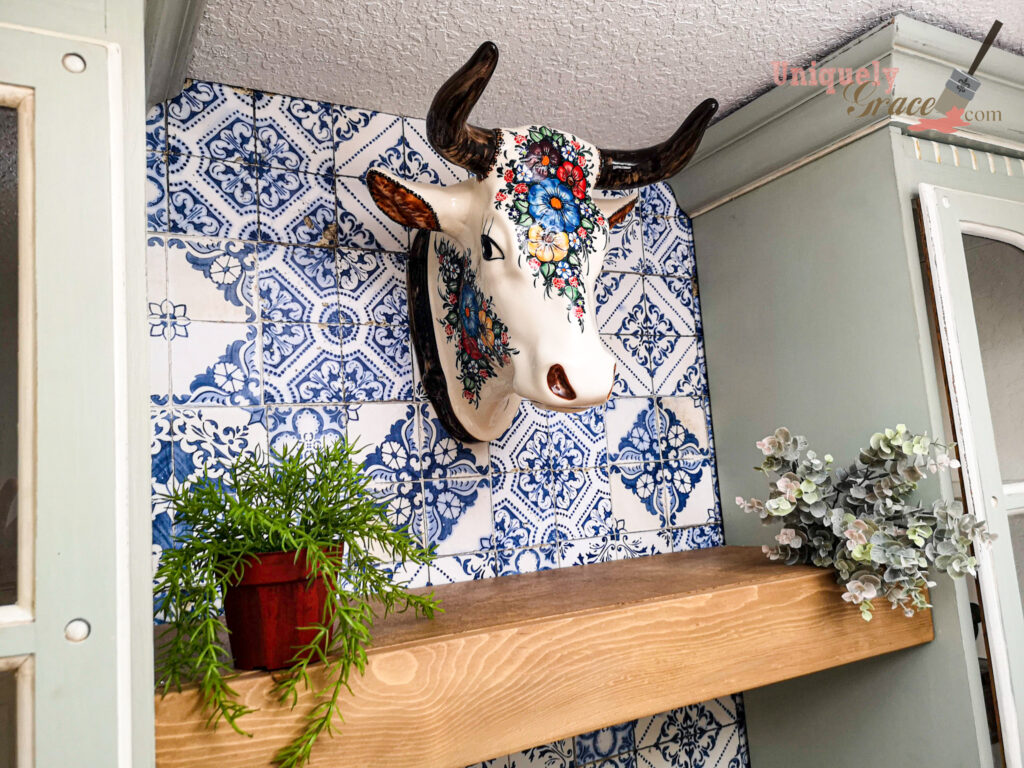 Ferdinand has quite the sink eye doesn't he. He need to be put in his place and that place was now my laundry room. I first saw this Polish Pottery cow head in Poland on a trip with some Military Wives. I chose not to buy one then as it was my first time there (of many as we didn't live very far away) and you know it took me 3, yes THREE years to find another one! I found Ferdinand and picked him out of a group of 4 that were in stock. I just had to have him after obsessing over finding him for so long. Gere us a pic of me in one of the many Polish Pottery shops. This stuff is awesome, beautiful and the way I love it…. hand made.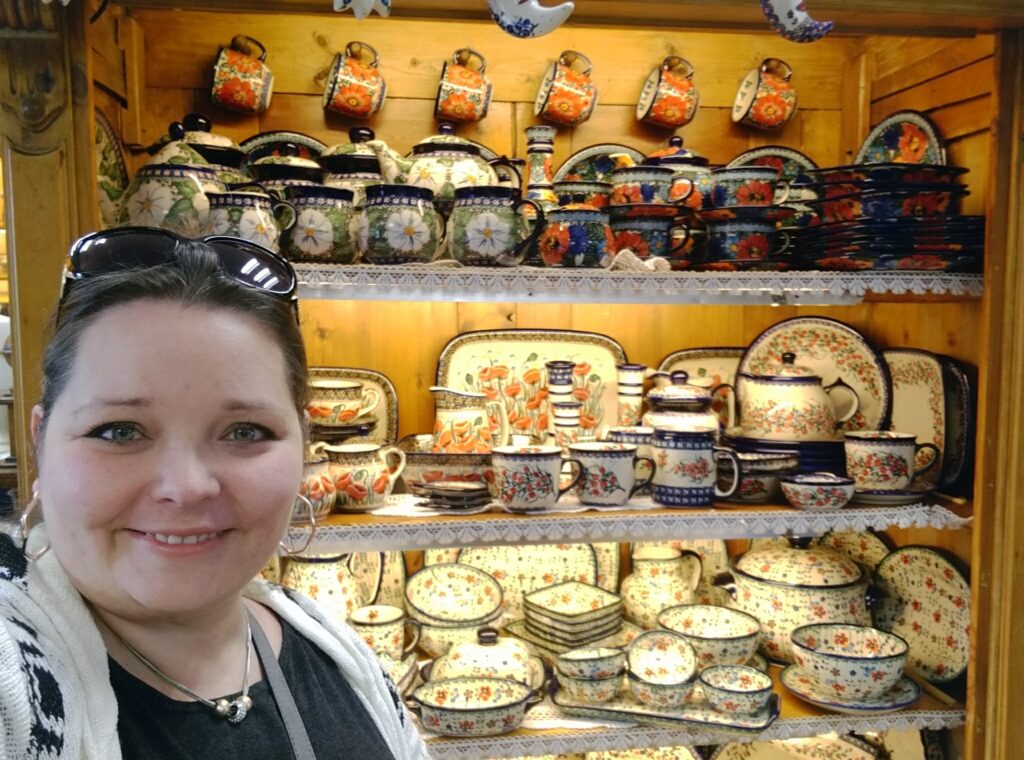 Now my shelves had to give him room at the top of the wall to be well…. HIM, stink eye and all. I marked his spot with some tape. Then decided where the top shelf and then the bottom shelf would go. The top shelf would be decorative and the bottom shelf would be functional. I needed to be able to reach it with my 5′ 2″ height. I taped them off to because I am a visual person. This trick helped me to know exactly where to install the selves also.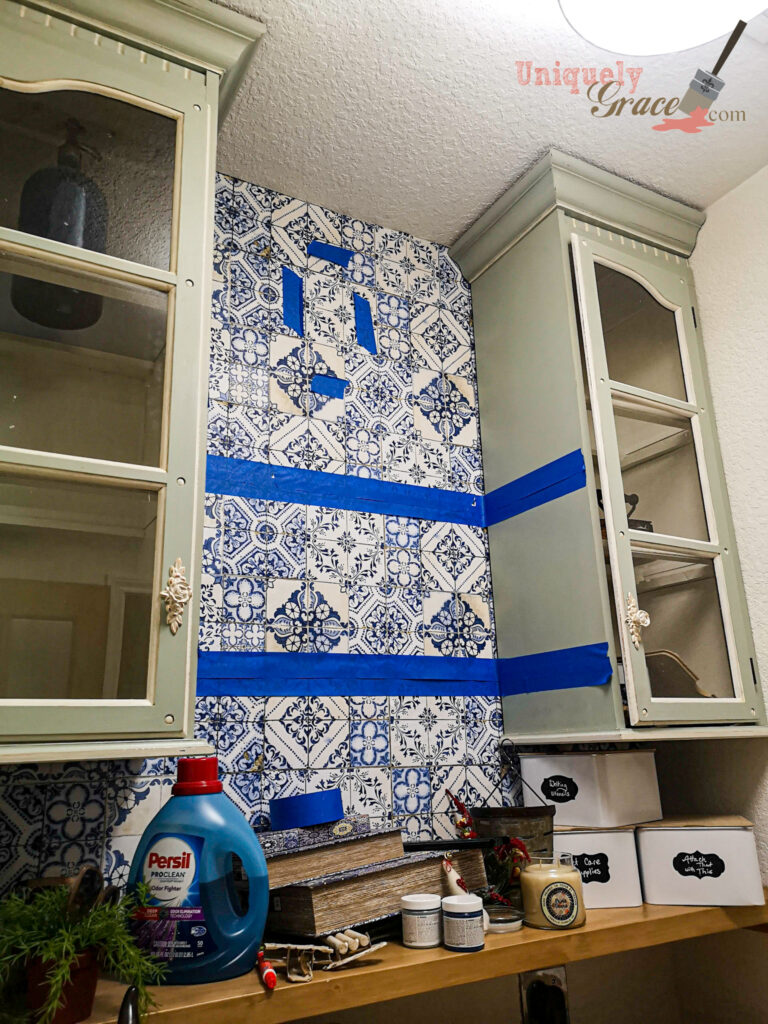 The Floating Shelve Hidden Secret Rack:
Okay so this is exactly where I reviewed Ana-white.com's floating shelf tutorial. She had two drawers one with a hanging rack and one with a drying rack. I didn't have that kind of space in my tiny, walk through laundry room. So I used her tutorial to design my own.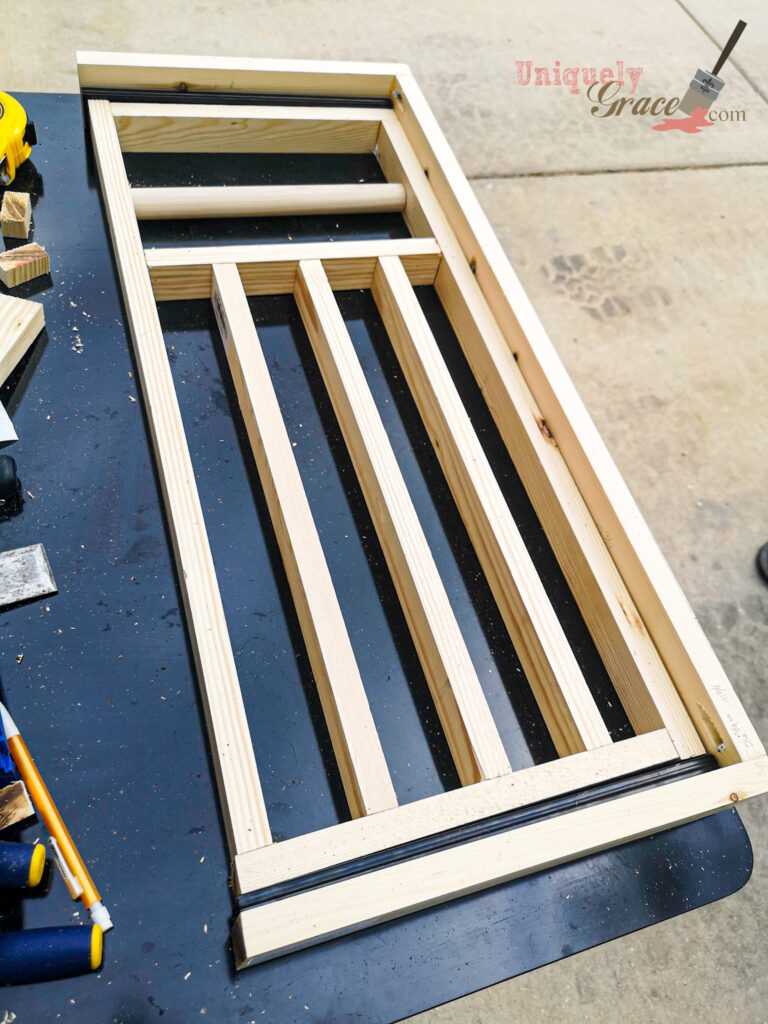 I wanted a few drying racks for delicates, and a hanging rack so my load of clothing. My clothes could be pulled out of the dryer and put directly onto a hanger. This keeps them from wrinkling and make them easier to take to the closet. In the image above I have the floating shelf base, the drawer guides and the rack, just to make sure everything worked well together before install.
The Install:
This is where my wonderful hubby steps in. He helped me install these three sided bases for the floating shelves. Because, well… it just takes more that two hands. We secured them into any studs we could find and made sure everything was level before securing it to the wall and the side cabinets (which I altered from a $25 china hutch details in this blog post link).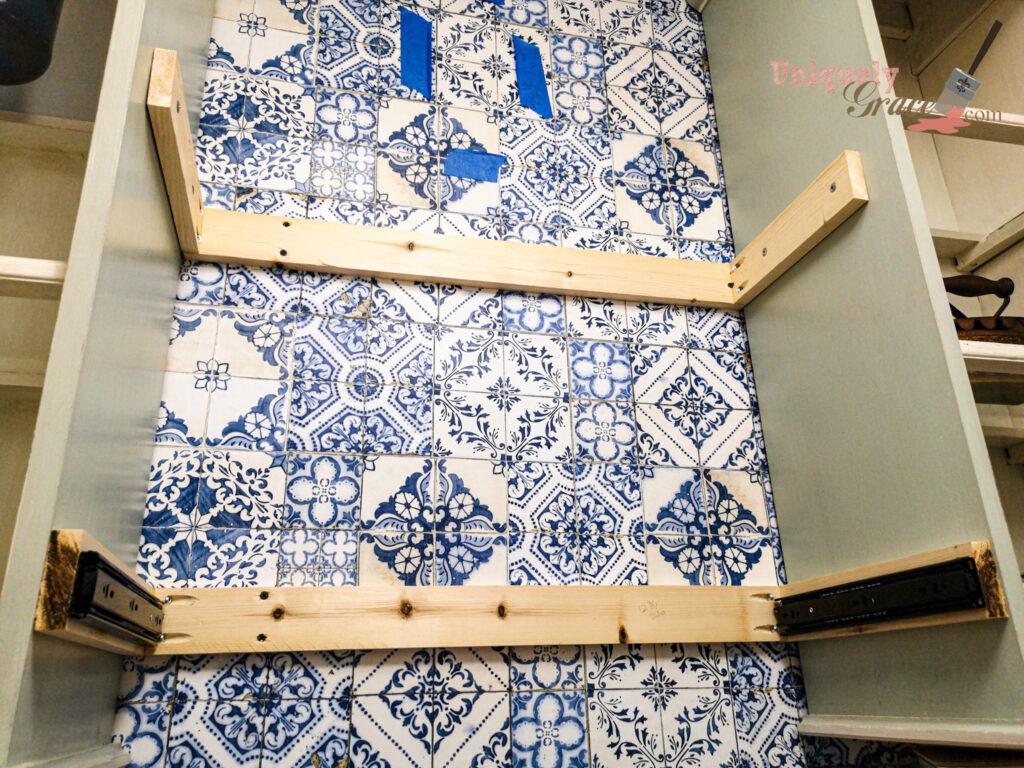 As per Ana White's suggestion in her blog I pre stained all the tops, bottoms and drawer fronts before install. These were sealed with the same Terra Bella Paints & Finished products as the larger shelf and folding counter below them (that I altered a $20 dining table into, details in this blog post).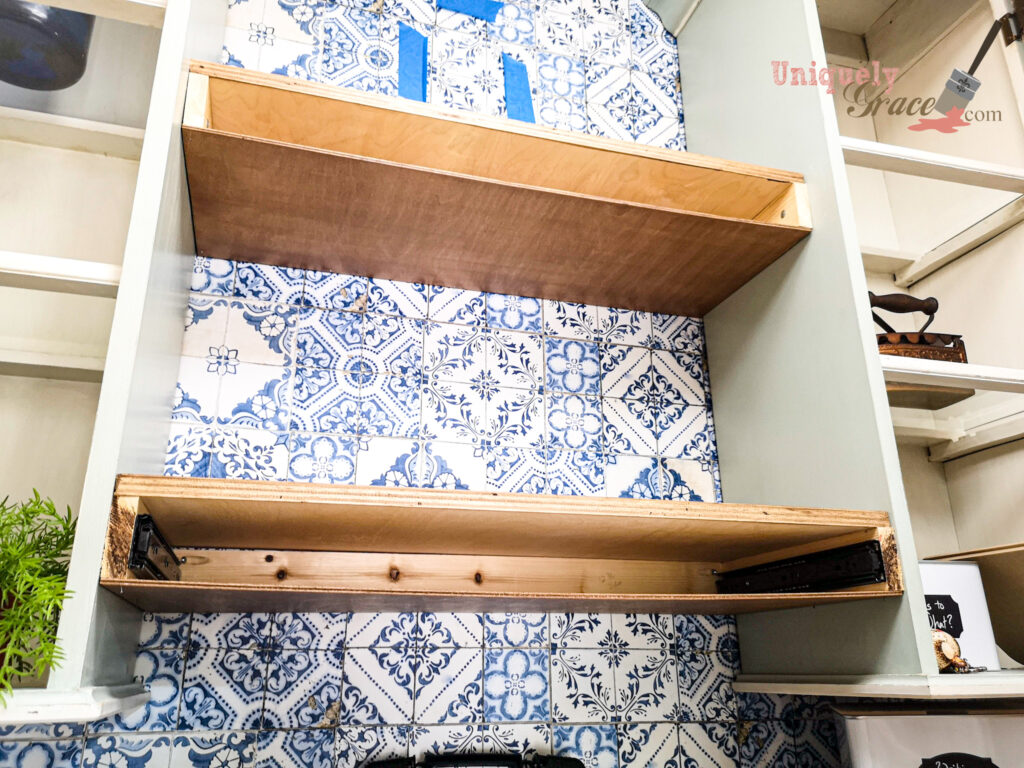 We then attached the drawer guides to the side of the drying rack. Making sure that when it closed the front of the drawer/self lined up with the floating shelf drawer box. Once that was done the project was complete!
VOILA!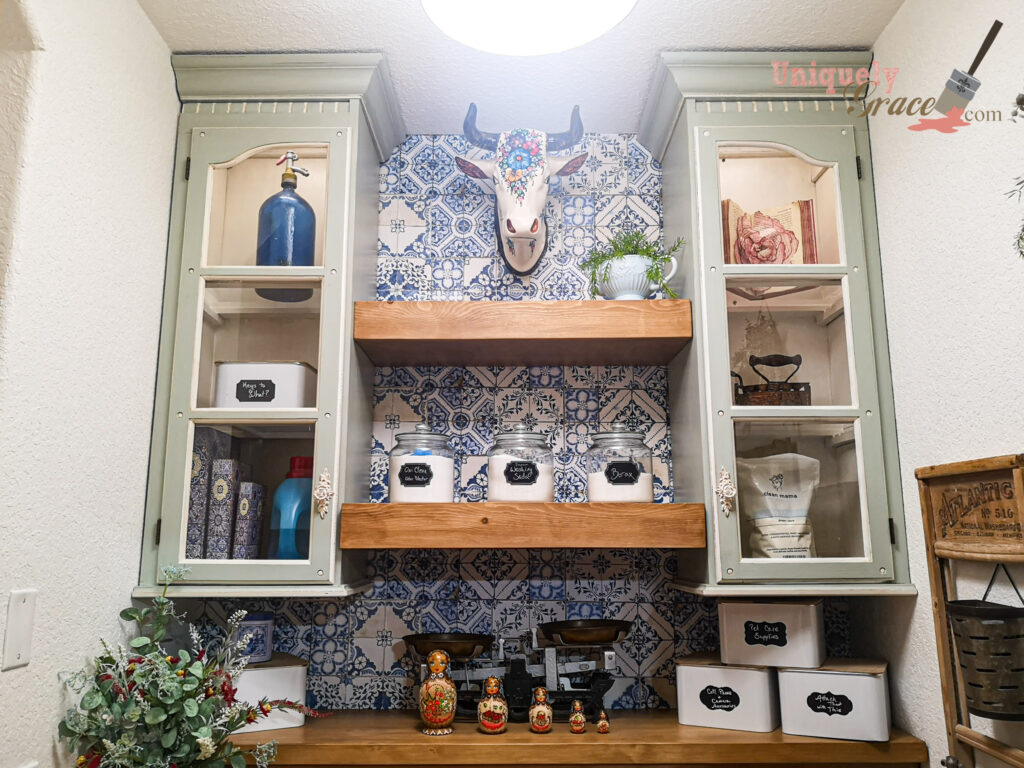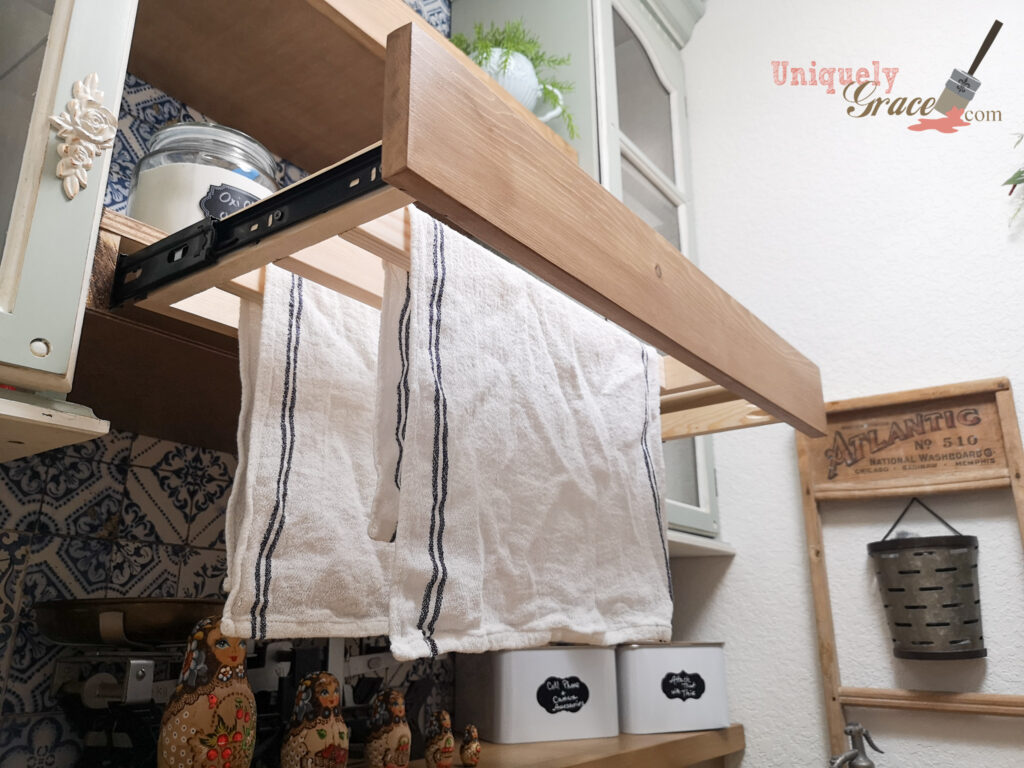 Here is the floating Shelves with a hidden secret in action! What do you think? Can you see why I love this so much? Leave me a message in the comments below.
Interested in reading more about this Laundry Room Makeover, check out my other blog posts in the links below.